There are many options available for you when it comes to finding the best foot soaker massager for an at-home pedicure or general use. You need to first determine the type of product you need, and read the reviews of the different products before choosing one. A best foot bath can help reduce stress and improve circulation by massaging your feet. Among other benefits, there are higher flexibility, greater sleep quality, increased energy levels, less pain, reduced weight gain, improve skin condition. It's important to understand that not all foot soakers and massagers provide these same benefits so it's important to examine them carefully before purchasing anything so you don't waste money or time with something that won't work for you.
Best foot soakers massagers or foot spas for pedicures can be used to ease sore muscles from intensive training schedules or days at work as well as soothe tired feet from years of pounding hard surfaces. Pedicures can, however, also be enhanced by the regular use of these products, especially if you are getting a home treatment. Here are three best functions an at home foot soaker and massager should have.
Massage rollers: They stimulate nerves in the feet while relieving pain, stiffness, and aches and pains. Also soften dead skin cells which helps to achieve fresher skin after at home pedicure.
Foot massage jets: They relieve aching muscles after a long day of walking. They also help soften skin to remove dead skin cells.
Heating Elements: Allow your tired or cold feet to be warmed while enjoying this foot spa.
Our Recommendations Best foot soaker massager
Giantex foot spa bath massager
Staff Pick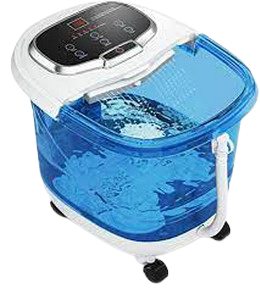 | | |
| --- | --- |
| Brand: | Giantex |
| Massage: | 6 Motorized rollers |
| Heating: | Yes |
| Shower: | Yes |
The Giantex foot spa soaker massager is a new type of product that combines the functions of washing, scrubbing, and massage. In addition to being a great choice for beauty care at home, this product is also ideal for relaxing tired feet. It can be used by both women and men for relief from fatigue resulting from travel or work.
Depending on your preferences and needs, you can customize the intensity of your massage through the adjustable water temperature and pressure. Six motorized rollers achieve full massage at all acupuncture points on your soles, promote circulation, and improve your sleep. It features 3 adjustable angles showers for relaxing stiff and sore calf muscles and relieving fatigue. Using its timing feature, you can freely set the time from 10 to 60 minutes. Its drain spouts make life so much easier. This beautiful pedicure device is especially suitable for elderly people and office workers. These all incredible features makes it a best professional pedicure foot soaker massager. The only feature bubble jet is missing in this device, otherwise it is best device for home and professional use.
Pros
motorized massage rollers
Temperature Control
Big enough foot basin
RENPHO Motorized Foot Spa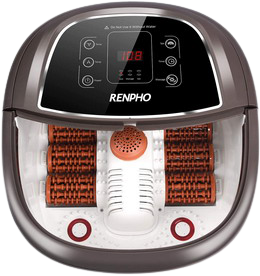 | | |
| --- | --- |
| Brand: | Renpho |
| Massage: | Non Motorized roller |
| Heating: | Yes |
| Shower: | Yes |
The RENPHO Motorized Foot Spa with Heat and Massage is a perfect combination of health care, beauty, and pampering. It has functions like a foot spa, a massage, heating, and sterilizing infrared lights which all can make your DIY pedicure experience the best. You can use it after a long day of walking or standing. This basin is large enough to hold both feet at once.
It has been designed to give you the most comfortable foot massage possible without much effort on your part. Just sit back, relax, and let it do its magic. With wheels attached, moving it around when it is full of water is easy. There are two locking wheels for when it is in use.
This product is the best foot soaker and massager for a DIY pedicure with a built-in heater and massage jets. Warm, soothing water relaxes tired muscles while the bubbling helps bring your circulation back to life. Besides the three massage modes, three bubble jets also aid in revitalizing tired feet. There is something so relaxing about the bubbles, and the rollers are positioned well for you to rest your feet lightly on them. The rubber foot-stands keep the foot soaker massager stable while it is being used. There is a convenient foot bath timer that allows you to set it for 1, 2, or 3 hours. What I don't like is the short electrical cord which is not a big thing.
Pros
Leakage protection
Bubble jet
Light weight
Pediprime 5 in 1 Foot Spa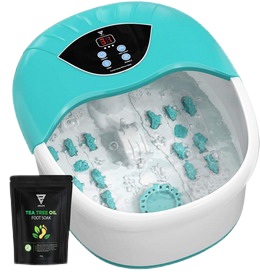 | | |
| --- | --- |
| Brand: | Pediprime |
| Massage: | Manual Massage Rollers |
| Heating: | Yes |
| Shower: | Yes |
The Pediprime Massage Foot Spa offers 5 in 1 functions. The luxurious and non-motorized 14 massage rollers included in the foot spa bath massager will help to relax and feel relieved. This affordable foot soaker massager will give you an instant heating effect and will also give you a good vibration strength. The Pediprime is one of the best foot soaker massager that has an overheat protection function and intelligent temperature control. Two thumbs up for its quick, accurate, and adjustable temperature control. Especially important is the vibration feature that really ties the whole thing together. It has an adequate level of vibration. This makes the unit a little noisy, but not more than expected. Bubble jet is also a part of this machine so that you can have a wonderful at-home pedicure spa experience.
A generous ergonomic outline fits your feet well and will help to prevent water from splashing. You can sit on your chair in your room slide your feet in and watch a movie without worry. It is incredibly easy to fill and empty, lightweight, and extremely easy to handle from the sides.
You can remove the roller cover for easy cleaning. Pediprime's best all-in-one soaker and massager have got an instant heating function which makes it easy to use anytime anywhere without waiting for a long time to heat up water, also has an overheat protection function to avoid skin damage caused by overheating water temperature.
Pros
Over heat protection
Good Vibration Strength
instant heating
HoMedics 2-in-1 Sauna and Footbath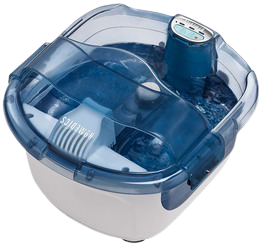 | | |
| --- | --- |
| Brand: | Homedics |
| Massage: | Yes |
| Heating: | No |
| Shower: | Yes |
The HoMedics Sauna & bath is the pedicure spa that gives you salon-quality treatments at home. This one of the best 2-in-1 foot soaker and massager give you two relaxing treatments in one, while the Heat Boost Technology maintains optimal heat for soothing comfort. With its unique toe-touch controls, you can customize the level of vibration, steam, and massage roller intensity for a custom treatment every time. Add essential oils to your bath, or enjoy a relaxing soak in warm water with 3 pedicure attachments, pumice stone, cleansing brush, and massage roller. The heating system is quick and efficient. This heat technology softens the skin of dry, rough, tired feet, which also helps to get rid of damaged dry skin. This is a great alternative to a salon because of its convenience, lightweight, and beautiful design that is why I am adding it in my best foot soaker massager for general use.
Pros
2-in-1 spa function
Hydra steam massaging
3 Pedicure attachements
Conair Pedicure Foot Spa
Budget Pick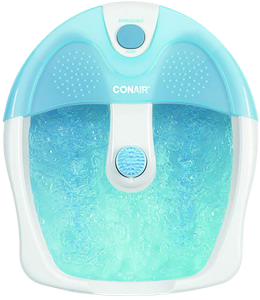 | | |
| --- | --- |
| Brand: | Conair |
| Massage: | Vibratoin Massage |
| Heating: | No |
| Shower: | Yes |
The Conair Pedicure Foot Spa is ideal for anyone who wants to relax and recharge their tired feet. The complete package includes everything you need. This Product has a luxurious velvet finish with ergonomic toe-touch controls to give you full control. A deep basin allows you to submerge your foot fully to experience a complete massage. The best foot soaker massager will help soothe sore feet with its soft-gel massage head.
If you want to relax your feet during the day or if you want a quick night treatment, then this compact device is perfect. It has a vibrating element that is very gentle and won't rattle your teeth. While this multipurpose soaker and massager do not heat water, if you place hot water in it, it will remain warm for up to 30 minutes.
Easy to clean, easy to disassemble, and easy to store, this product is convenient to use. It is only a downside that it be loud when the vibrations are on. It has plenty of room for large feet. Even if your size is 12 you don't have to worry about it. Having such a soothing product is a great relaxing remedy for your tired feet after a long day at work.
Pros
Easy Operation
Easy Cleaning
Bubble Jet
Ovitus foot spa bath massager
Best Pick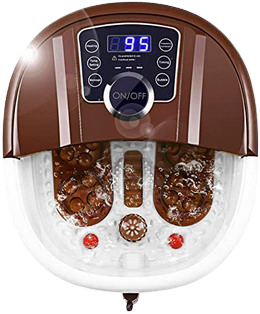 | | |
| --- | --- |
| Brand: | Ovitus |
| Massage: | 16 Fully Motorized Rollers |
| Heating: | Yes |
| Shower: | Yes |
The Ovitus Foot Spa Bath Massager is the ideal product for people who work on their feet all day. With 16 mechanical rollers, it massages your feet and gives you a sense of rejuvenation and refreshment after every session. I especially like the motorized shiatsu rollers, as they feel far more comfortable than regular rollers do. This Ovitus best foot soaker massager also comes with heating provided that can be adjusted to your desired temperature for a soothing, relaxing bath. As soon as you set the temperature, the water quickly heats and stays at that level.
The water is infused with oxygen bubbles via an air injection system with 3 intensity levels. As a result of the bubble massage, the skin's ability to rejuvenate itself is enhanced by improved blood circulation throughout the body. Athletes also benefit from the oxygen bubbles since they reduce lactic acid buildup in their muscles, enabling them to recover faster after a workout. Even you can add Epsom salt to the built-in herbal cup to help with your aching feet. Even if you want to use this foot bath for relaxing or pampering your feet you will get the ideal results every time.
Pros
Quick heating element
Bubble Jet
Efficient Power control system
H&B Luxuries Foot Bath Massager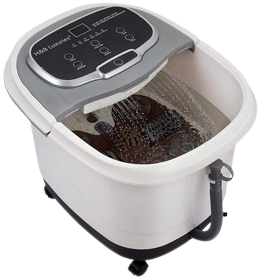 | | |
| --- | --- |
| Brand: | H&B |
| Massage: | 6 Motorized Rollers |
| Heating: | Yes |
| Shower: | Yes |
The H&B Luxuries spa for pedicure is the best multi-functional foot soaker and massager. With 6 motorized roller massagers, it can meet all your needs of deep massage, muscle relief, relaxation, etc. You can easily wash and clean the rollers since they are removable. The water temperature controller enables it to maintain the perfect water temperature for your feet. This is easily adjustable and keeps the water comfortable. The water temperature could be adjusted anywhere from 95°F to 118°F. The heating function will make you feel cozy and comfortable during the whole operation. This luxury pedicure spa is the perfect way to relax pamper your feet after a long day.
A separate ankle shower completes this best foot soaker massager. Not only does it keep the water moving, but it feels good too. You will love the sound of like the rain.
With a double overheating protection system, you can be assured that you are working safely and efficiently. This machine also comes with a medicine tray for those who want to use Epsom salt to soothe their feet. This H & B soaker massager is lightweight and due to its compact design handling is also very easy.
Pros
Intelligent water temperature control
Double over heat protection
Easy Clean and store
Kendal all in one Spa Massager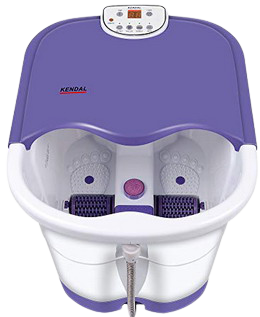 | | |
| --- | --- |
| Brand: | Kendal |
| Massage: | Wave and Motorized Massage |
| Heating: | Yes |
| Shower: | Yes |
The Kendal all-in-one Deep foot and Leg soaker Massager is a multi-functional foot and leg spa equipment for home or professional use. This pedicure device is an ergonomic massager that is designed to keep your feet and legs refreshed and hydrated with the help of a motorized rolling massage and a wave and motorized rolling massage. You can also feel your skin is soothed and loosened by a waterfall and water wave massage. It features two water jets that simulate a water cycle with numerous bubbles that simulate reflex zones on the feet.
Using the digital temperature and timer control, you are able to set the perfect water temperature and timer, while your device features an integrated temperature indicator for monitoring your treatments and knowing when the water has reached the ideal temperature. Temperatures can be adjusted between 35°C and 42°C. That heater is great, it will actually heat cold water up to like warm water in less than five minutes. The digital timer allows you to set the duration for 30 minutes or 60 minutes.
This best foot soaker massager is moveable, relaxing, easy to set up, and easy to drain. After filling it with water, the handle makes it easy to wheel it to your desired location. The hose that is attached to drain the water afterward is very well constructed. There are not many devices that do what this one does and can be easily customized via remote control – you don't have to stand up to make changes. Another plus point is it comes with overheating protection.
Pros
Big enough for foot and legs
Remote Control operation
Quick Heating
LIFEASE Steam Foot Bath Massager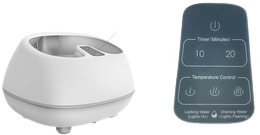 | | |
| --- | --- |
| Brand: | Lefease |
| Massage: | 4 Massage Rollers |
| Heating: | Yes |
| Shower: | No |
The LIFEASE Foot Spa with Steam is excellent foot bath massager that uses steam to provide you with the ultimate pampering experience. It offers 3 heating levels, 2 adjustable timers, a safety protection system, and even comes with an innovative massage board for your feet. This product is great for relieving stress, improving blood circulation, and removing dead skin cells. All these features make this the best pedicure soaker massager device in my opinion.
Steam automatically begins generating after only 20 seconds, thanks to the Steam Foot Massager's efficient steam system. The massager water stays warm and comfortable for up to 30 minutes once heated. While soaking your feet in hot water, the roller in the center helps to relax your foot muscles. While being heated by this spa, it doesn't feel as though it would melt away your skin, but rather that it would relax your muscles. This spa's massager is helpful for sore feet. Epsom salt or any other type of salt can be added to the herbal spa box for additional health benefits.
A modern touch panel provides an easy way to select a perfect foot bath mode, thanks to the convenient timer (10/20 minutes) and temperature controls (3 heating temperature levels). This environment-friendly footbath is designed innovatively to enhance the user experience and to make the environment more sustainable. A cup of water is all you need to enjoy yourself. A 300ml of water can be fumigated for 20 minutes. So you can enjoy with this best foot soaker and massager a professional style pedicure at home with ease.
In addition to its relaxation function, the product has other benefits. These include cleansing, sterilizing, softening, and nourishing skin. Through pressure massage on the soles and heels, effectively reduces fatigue from long hours of work and study. Furthermore, it has moist heat therapy that can assist in improving blood circulation as well as relieving muscle aches and pains.
Pros
Remote Control Operation
Steam Heat
Safety Functions
HoMedics Compact Pro Spa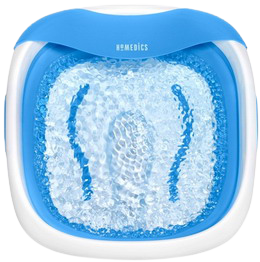 | | |
| --- | --- |
| Brand: | HoMedics |
| Massage: | Vibration Massage |
| Heating: | No |
| Shower: | Yes |
Your feet will enjoy a relaxing vibration massage with the HoMedics Compact Pro Spa Collapsible Footbath with Heat. During the foot massage, the Acu-node surface on the inner basic provides gentle pressure while the heat further relaxes them. It maintains the heat which is perfect for soothing tired muscles and aching joints. The heat maintenance (don't heat) and vibration modes turn your feet into a blissful mini-spa. The vibration is awesome and the bumps on the bottom make a lovely bit of a massaging sensation as your feet cross them. Epsom salts can easily be added to the basin for an extra relaxing effect. This foot bath has enough space even 14 size feet can fit in it.
This is the most compact and easy-to-use best foot soaker massager on the market. With a collapsible design, this portable spa is the perfect size to take anywhere. With its anti-collapsible and spill-proof features, you can enjoy a spa pedicure experience whenever you want. It's also splash-proof, so you can use it indoors and outdoors. It's small and weighs only 4.4 pounds, and you can even store it in a closet or cabinet.
Pros
Anti Slip Design
Splash Proof
Compact and easy to clean
Conclusion
We can call a best foot soaker and massager to the one that has heating elements, bubble jets, Motorized Shiatsu Massage Balls and affordable price. The Giantex Foot Spa Bath Massager is winner in our list because it is easy to use and clean as well as affordable and long lasting. If you are looking for an awesome way to soak your feet or experience a massage from the comfort of home, this product may be just what you need!
Frequently Asked Questions
How do foot soaker and massager work?
A foot soaker and massager produces a soothing massage effect by mixing heated water with air bubbles that are motorized through a pump. Since cold water is not safe to use during pedicure treatment, the water in the basin should remain warm throughout the treatment. Foot soaker and massager must only be used with water if you wish to use any other substance to avoid damaging or interfering with their performance.
What accessories provided with foot soaker and massager?
Many foot soakers massagers include accessories such as a pedicure brush, a pumice stone, and a callus remover. All of these items are useful for improving your foot skin health.
Can I reuse foot soker and massager water?
No because it may contain dirt, germs, and other harmful substances which can damaged your skin. You should drain existing water and pour fresh water whenever you want to use it.